Doors & Glass
With an extensive inventory and wide selection of sizes, shapes, colors, coatings, and patterns, Paul Rabinowitz Glass provides glass installation and glass repair, when you need it.
Door Replacement, Repair & Design
For specific solutions to your individual needs, our professional staff helps you select the perfect door to fit your needs. Depending on decor and the demands of the environment, you can choose from a variety of commercial doors for interior and exterior use.  We provide replacement, repair and design in:
Door Hardware
Paul Rabinowitz Glass repairs, replaces or adjusts existing door parts, and designs and installs new entrance ways from our large inventory of commercial doors.
This includes: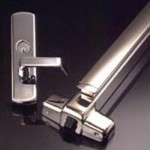 Panic Hardware & Exit Devices
The aluminum push pad is uniquely designed to absorb shock and withstand repeated abuse in the most demanding high-traffic areas, providing greater security and durability.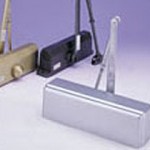 Door Closers
For a new installation, a significant point to consider is the amount of anticipated traffic expected for the door. Closers are labeled as to how much traffic they are designed to endure before needing replacement.
Glass Products & Services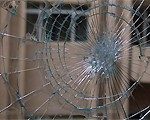 Laminated Glass
Laminated Glass is made up of a vinyl laminate (PVB) layer bonded together between two panes of glass under heat and pressure. Laminated glass may crack upon impact, however the glass fragments typically stick to the protective inner layer rather than falling free and potentially causing injury. It breaks exactly like the windshield of your car, cracks but is held in place by the vinyl laminate layer.The ultraviolet filtering performance of the protective inter-layer helps protect valuable furnishings, displays or merchandise from the fading effects of the sun's UV light.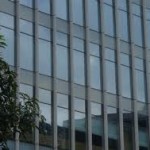 Curtain Walls
In addition to storefronts, we also furnish & install several manufacturer's standard curtainwalls in typical anodized finishes and custom paints, or with custom cladding. Curtain walls differ from storefront systems in that they are designed to span multiple floors, and take into consideration design requirements such as: thermal expansion and contraction; building sway and movement; water diversion; and thermal efficiency for cost-effective heating, cooling, and lighting in the building.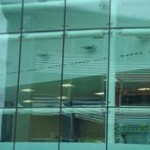 Structural Glazing
Besides standard glazed openings, Paul Rabinowitz Glass can also furnish & install custom structural glazing ranging from exterior butt glazed systems to stacked glass, utilizing dot supports, spider fittings, and/or structural glass fins.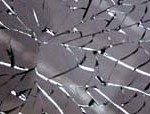 Tempered Safety Glass
The "heat-treatment" process of tempered glass provides safety characteristics giving it additional strength, resistance to thermal stress and impact resistance. Additionally, when fully tempered glass breaks it fractures into small, relatively harmless fragments. And markedly reduces the likelihood of injury to people as there are no jagged edges or sharp shards.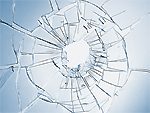 Annealed Glass
Although annealed (ordinary) glass is probably the most common glass around, it also has the potential to be the most dangerous. When annealed glass breaks, it produces razor-sharp shards of glass that can cause terrible injury. Building codes in many parts of the world restrict the use of annealed glass in areas where there is high risk of breakage and injury, for example in bathrooms, in door panels, fire exits and at low heights in schools.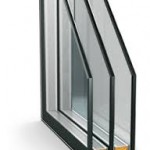 Insulated Glass
Insulated or "double-pane" glass is required by building codes in many areas as a mandatory energy conservation measure. Insulated glass consists of two panes of glass separated by a space. The type of glass, the type of spacer, and the type of gas used in the space contribute to the overall insulating efficiency of the glass, and also the total cost.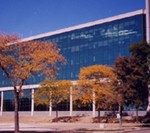 Spandrel Glass
Spandrel glass is typically specified for buildings' non-vision areas to mask construction materials from being viewed from the exterior of the building.Spandrel glass is usually produced by a fired-on frit process in which a ceramic frit is applied to annealed glass and then tempered to fuse the frit with the glass. The result is a non-vision glass panel that does not fade. This glass can also be insulated to increase its thermal performance.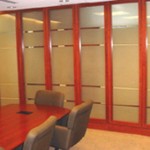 Specialty Glass
A custom glass fabrication is manufactured to specified dimensions, tolerances and surface finishes for your application.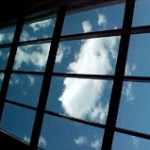 Skylights
Built into the roof of a structure a flat, sloped, dome or pyramid shaped skylight offers natural daylight and energy management for any type of space.
Clear Graffiti Shield
Expensive glass panels are protected from exterior graffiti etchings when Graffiti Resistant Film is applied to the outside of glass.
Solar Window Film
Solar Window Film can help conserve energy and lower overall energy costs. Solar Window Film is the most cost effective solution for regulating temperature imbalances in buildings and reducing annoying glare. Clear Solar Heat-Control Window Film applied to the inside surface of glass keeps out up to 79% of the sun's heat in the summer and retains warmth in the winter. Moreover, it pays for itself with lower HVAC costs.
Decorative Window Tinted Film
Decorative Films add new style to buildings for a fraction of the cost of other refurbishments and without inconvenience. Available in a wide variety of colors and patterns, Window Tinting Film, semi-reflective and fully-reflective film enhances architectural design. From the inside, window tinting and decorative films are optically clear and from the outside have a uniform appearance that compliments the building's design.
Custom Glass Entrances
In addition to standard glass entrances, Paul Rabinowitz Glass is experienced in assisting with taking custom glass entrances from conceptual design through engineering to final production and installation.
Interior Mirror Design
The process of applying a reflective surface to flat glass combined with a protective backing yields 90% reflectivity. For both decorative and functional purposes, options such as fabricated beveled edges and grooves finish the product.
We also provide replacement, repair and design services for:
Bullet Resistant Glass
Plastics
With a staff of more than 25 trained and certified technicians, we provide the technical advice to ensure you make the most informed decisions.